Over the course of a 30 year career, Christina Ricci has cemented herself as the queen of cool but creepy movie roles and iconic vampy alt fashions. Starting off in a series of SNL sketches, the Cali-native made her big screen debut soon after, in the 1990 film Mermaids, alongside Cher and Winona Ryder. It's fitting that Christina and Winona would begin their careers together, given that both of them would go on to play haunting, scene-stealing child roles, wearing fashions that would inspire the alt and punk styles of the 90s and 00s. It was during the y2k era that Christina's career truly took off, with cult classics such as sexually fluid rom-com The Opposite Of Sex (1998) and indie crime drama Buffalo '66 (1998) as well as dark big budget pictures such as Tim Burton's Sleepy Hollow (1999) and the Wes Craven body horror Cursed (2003).
Over this time her fashion evolved too, going from dark ensembles and pale makeup, to risque noughties trends and eye-catching eyeshadows. Her style credentials have also led to many fashion ads and magazine covers — including i-D in 2002 —  as well as walking the runway for Louis Vuitton and, more recently, Batsheva. As she now stars in the fourth sequel to the incredibly-fashionable 1999 sci-fi epic The Matrix, we take a look back at some of Christina Ricci's most iconic outfits.
Still from The Addams Family (1991)
In The Addams Family, 1991
It's the look that launched a thousand Halloween costumes, fashion runways and, for some, an entire aesthetic category. When a 10-year-old Christina signed on to play the emotionless and sadistic teen Wednesday Addams in the dark supernatural comedy The Addams Family, not only did the role propel her into child stardom, she'd also go on to become the muse of everyone from Miuccia Prada to Simone Rocha. The white-collared black dress and long pigtails sported by Wednesday as she carries out her deadly science experiments and plays around with a guillotine, became an iconic symbol of the witchy, Puritan-inspired alt fashion beloved by teen goths everywhere.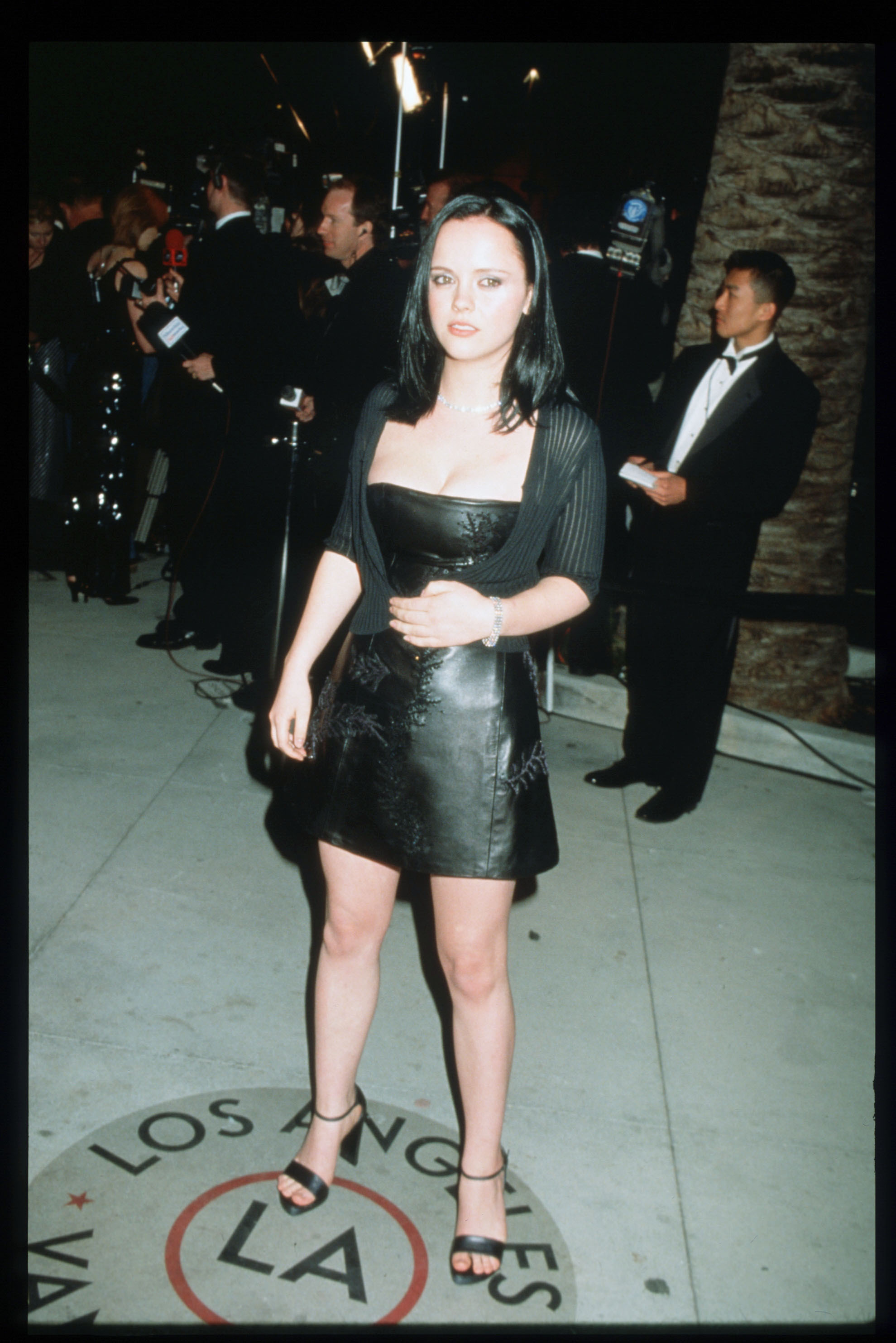 Christina Ricci attends the Vanity Fair Oscar party March 21, 1999 in Los Angeles, CA. The party, organized by Vanity Fair magazine, is held at Morton"s restaurant and is considered one of the most important venues for the celebrities after the awards ceremony. (Photo by Barry King/Liaison)
At the Vanity Fair Oscars Party, 1999
In the late 90s, Christina had moved on from the ooky spooky PG-rated family films of her past towards darker, sexier and more transgressive roles. From a queer-coded Little Red Riding Hood to being in a ménage à trois with Elijah Wood and Adam Hann-Byrd (that's The Ice Storm (1997) FYR) and partying with Courtney Love in their chaotic New Year's Eve comedy 200 Cigarettes. At the 71st Academy Awards in 1999, introducing Mariah Carey and Whitney Houston to the stage to perform their Oscar winning hit from The Prince of Egypt, "When You Believe", Christina wore a glitter silver gown with loose straps that kept chicly slipping off her shoulders, before later changing into a more fun number for the Vanity Fair after-party. The matte leather LBD she wore for her night attire was embellished with a branching frosted design that looked like stitches and gave the garment an almost Frankenstein-esque appearance. Paired with a diamond necklace, sheer cardi and strappy heels, it was the perfect look from an enviably vampy wardrobe.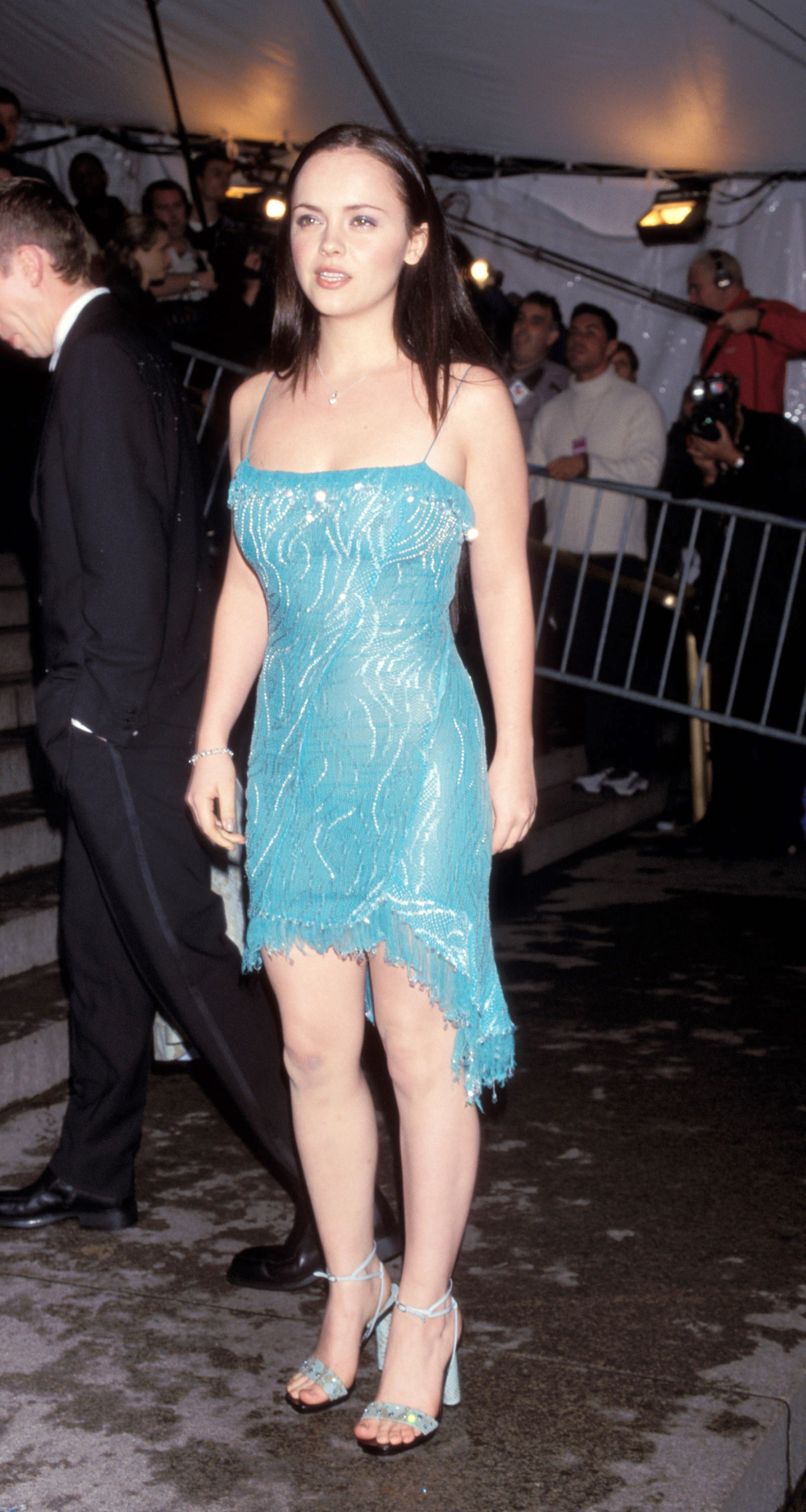 Christina Ricci at the Metropolitan Museum of Art in New York, New York (Photo by Kevin Mazur/WireImage)
At the MET Gala, 1999
You're not a verified fashion icon until you've been invited to the MET Gala of course, and it was in 1999 that Christina attended her first of the annual illustrious sartorial soirees. Hosted by Tommy Hilfiger and Aerin Lauder of the Estée Lauder dynasty, the year's theme was "Rock Style" and celebrated the past 50 years of Rock 'n' Roll in fashion. Obviously, then, Christina would be invited; an actress whose personal style was quickly becoming adored by America's punk and alt scenes. Back then, the theme at the "Party of the Year" wasn't taken quite so literally as it is now and looks were more focused on serving glamour and rhinestones rather than stunning art pieces and shocking Instagram-able moments. That's not to say we weren't still served up some iconic looks though! And on the same night Donatella debuted the tropical green Versace dress a year prior to when J-Lo famously would, Christina Ricci turned up wearing an ethereal, spaghetti-strapped dress in ocean blue, finished with fringe along the hems and streaks of diamonds across every inch. We can just picture it shimmering under the lights as she partied the night away with other stylish names of the 90s such as Stella McCartney, Liv Tyler, Lil Kim and Jennifer Love Hewitt.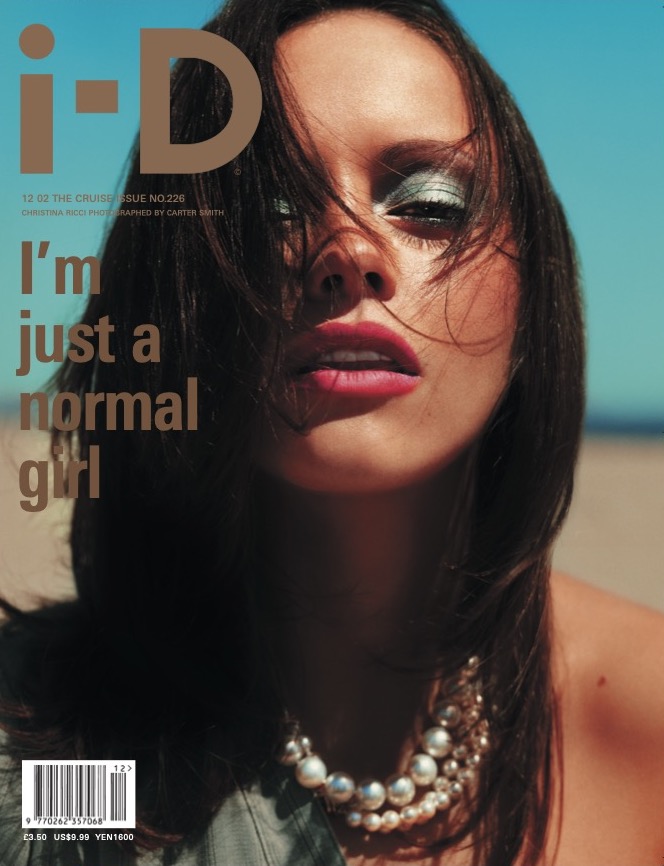 i-D No. 226 The Cruise Issue, December 2002. Christina Ricci photographed by Carter Smith
On the cover of i-D, 2002
"I realised as I got older that I wasn't this grumpy misanthrope any more," Ricci says in her cover interview for i-D's The Cruise Issue in 2002. "I was like that a couple of years ago but I'm not like that now. Nobody wants the image of themselves at 17 to stick with them for life. That isn't fun." As she spoke about dropping her previous goth couture style and wild child reputation whilst forming her own production company, Blaspheme, a photoshoot by Carter Smith reflected the now 22-year-old star's new direction. With bold aquamarine eyeshadow, glossy pink lips, grandma pearls around her neck and light, billowy clothing, it was a very different picture than that of the edgy "princess of darkness" we were used to seeing. That's not to say the old Christina was completely gone though. "I love to do characters who the audience is supposed to hate," she added. "I think that people who are the biggest assholes are usually protecting something special." Ironically, those are the characters we seem to love the most.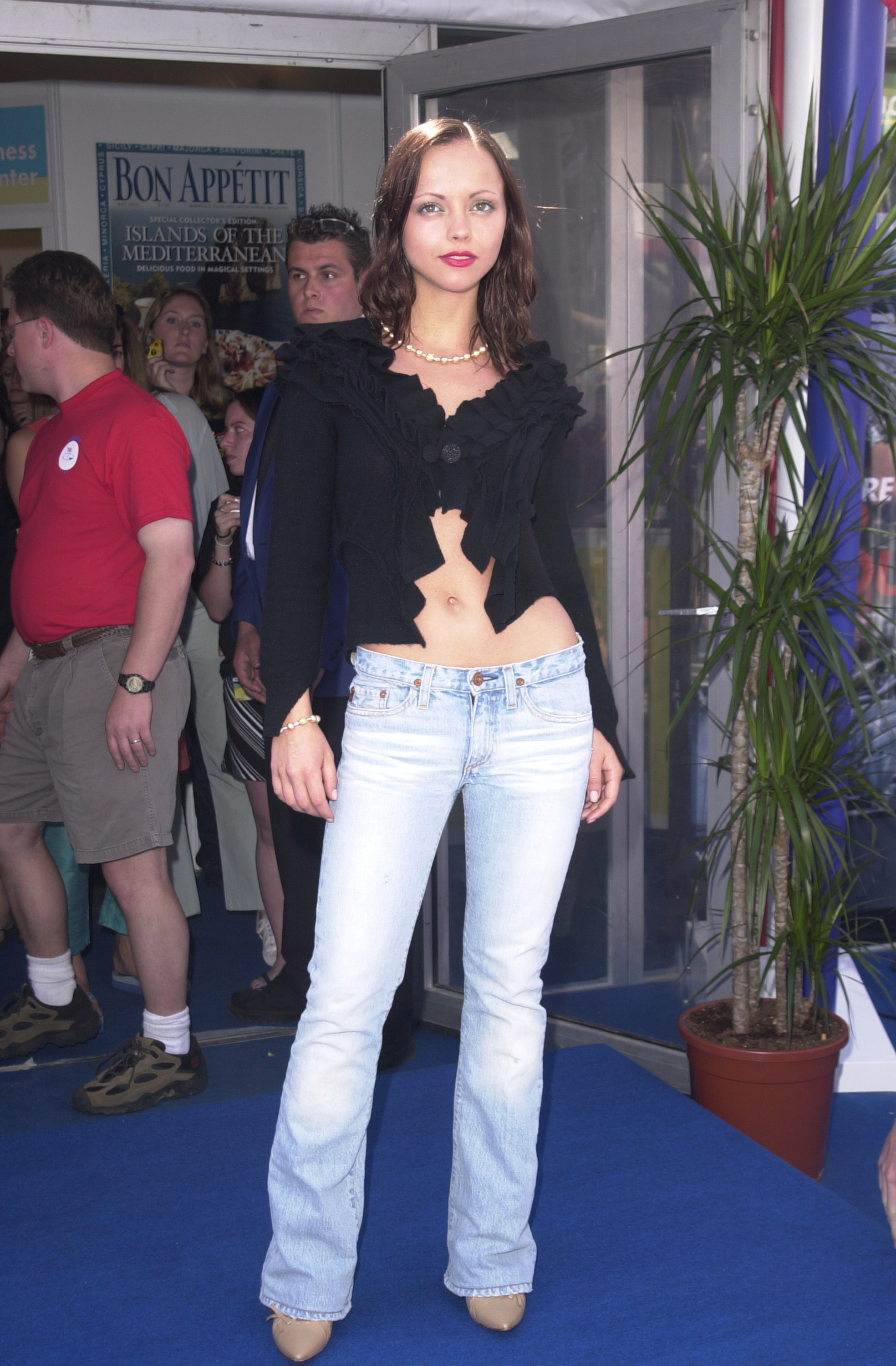 Christina Ricci during Cannes 2002 – Christina Ricci Opens The American Pavilion at The American Pavilion in Cannes, France. (Photo by Toni Anne Barson Archive/WireImage)
At Cannes Film Festival, 2002
Christina couldn't have picked a more y2k look to open the American Pavilion at the 55th Cannes Film Festival in. The bleached low-rise flares and frilly black cardi-top that left her belly button exposed; with the pop of fuschia on her lips and a matching pearl necklace and bracelet combo, the fit could have come straight off of a Bratz doll. It was the epitome of an it-girl look in the early 2000s, which was of course very fitting. Christina's new Anthony Horrowitz-written horror, The Gathering, about an American girl with amnesia who has a premonition that something malevolent wants the British family she's been living with dead, was premiering at the esteemed showcase. Although the film itself may not have been well-received, Christina's outfit is a critical success in our eyes.
American actress Christina Ricci attends the Louis Vuitton Spring-Summer 2005 ready-to-wear fashion collection, by designer Marc Jacobs, during the Paris Fashion Week. (Photo by Stephane Cardinale/Corbis via Getty Images)
For Louis Vuitton SS05 Ready-to-Wear Show, 2004
Having modelled the Louis Vuitton FW04 collection in a set of stunning sultry ads, Christina took to the runway at Paris Fashion Week in the French house's ready-to-wear offerings for Spring Summer 2005. Then-creative director Marc Jacobs was inspired by the circus of 1940s America, and had Christina opening the show in a kitsch, puffy-sleeved tailored black shirt with a matching sequin-embellished peplum skirt and hair bow. A spotlight and the flash of cameras followed her as she walked a low-lit catwalk, while spinning LED hoops hung from the ceiling as if they were holding an invisible acrobat and ominous violins played to create a background atmosphere of panic. The rest of the models then continued the big top theme with clown-button blouses, Peter Pan collars, and necklaces of fake flowers that looked like they might squirt you with water if you got too close.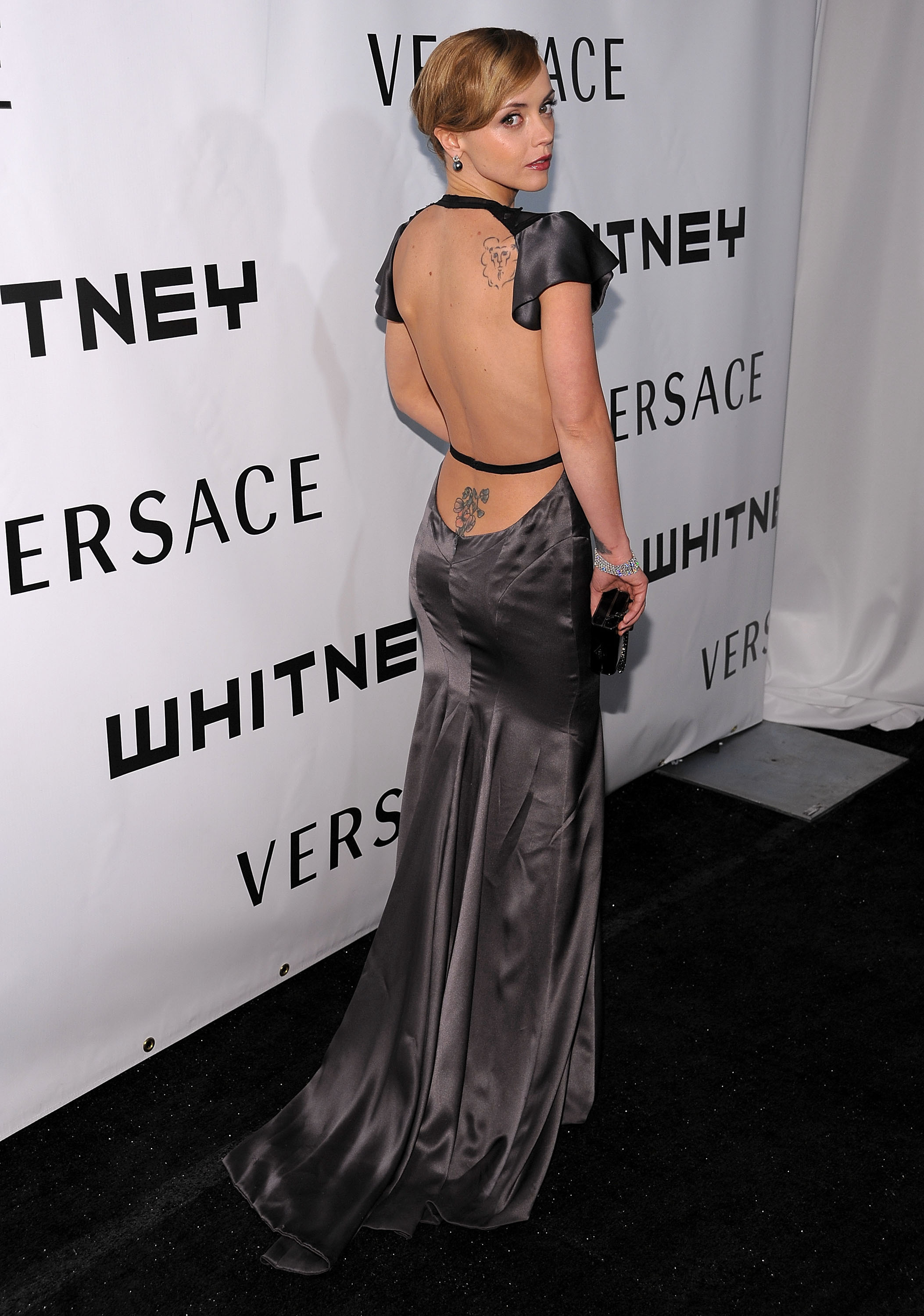 Actress Christina Ricci attends the 2008 Whitney Museum of American Art Gala at the Whitney Museum of American Art on October 20, 2008 in New York City. (Photo by Dimitrios Kambouris/WireImage)
At the Whitney Museum Art Gala, 2008
In 2008, Christina hosted the Whitney Museum of American Art's Gala and Studio Party in New York City alongside the star behind everyone's favourite chaotically evil Gossip Girl character — the one and only Leighton Meester. While three custom jewellery pieces by Donatella Versace were being auctioned off during the evening, Christina opted for a silk tonal grey gown from the Italian designer's Fall 2008 collection, with gothic embroidery reminiscent of her early style across the bodice. But it was the back that really had everyone talking. Proving that the early to mid-noughties trend of daringly low-cuts was definitely not over, the backless gown dipped to just above Christina's bum, framing the bouquet of sweet-pea flowers she has tattooed on her lower back and the lion on her right shoulder blade. Yes, it is a reference to her favourite book by the author C.S. Lewis. As she socialised with the A-listers du jour, the look perfectly surmised the fashion reputation Christina had garnered: a little edgy, a little shocking, but always, always on point.